iShare was a concept I had in mind before I joined my current club, before I ever won my first medal and before I had any success. It is about sharing knowledge to help others, mainly people that need guidance to enjoy and get something positive out of their photography. Photography should not be about labeling yourself as 'not creative' or 'not skilled' or 'not an opportunist', is it about making the most of what you do have and growing at your own pace.
Video Tutorials
Below is a selection of video tutorials that have been published from The Foundations of Photoshop DVD Course that will be available later this year. If your YouTube quality is not set to 720p HD, please change the video quality from 360p to 720p HD in the lower right corner.
1 Introduction - 1.1 What is this course all about?
2 Setting Up Photoshop for Photography - 2.1 User Interface
2 Setting Up Photoshop for Photography - 2.2 Customise Settings
1 Introduction - 1.1 What is this course all about?
2 Setting Up Photoshop for Photography - 2.1 User Interface
2 Setting Up Photoshop for Photography - 2.2 Customise Settings
Reason for changing the Gray Colour Settings: Dot Gain percentages are generally used for press printing such as newspapers and magazines. If most of your photographs are either displayed on monitor, web, projector or printed on an inkjet printer, gamma 2.2 is probably a better overall choice. As we know, web, photography competitions all require sRGB, which also has a gamma of 2.2. So your greyscale will be more accurate if you use gamma 2.2. However, it is essential that you use the correct printer profiles when home printing or sending to a lab that is specific to the paper you are using.
Tutorial Documents
A great deal of time and effort goes into producing these documents, please feel free to share them, but please credit my website in return. Note ownership stays with KT Allen Photography. The password for all documents is 'ishare'.

Customizing Lightroom - Icluding interface and preferences, with basic use and my workflow.
Special Offers
To kick off 2013, I auctioned myself off for an afternoon on my Facebook page. The lucky winner was Neil Maughan from Durham PS. The afternoons are done to give something back to amateur photography in Britain and the winners are free to determine the photographic outcome of the afternoon, be it in camera, digital processing, exhibition selection and preparation or even just a pleasant afternoon and some good coffee. I believe if everyone gave a little, it would improve not only the quality of British amateur photography, but also the interaction between fellow photographers.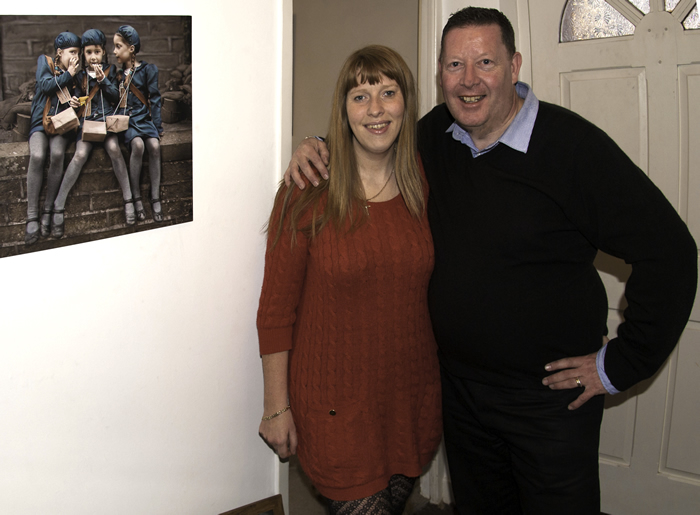 Read what Neil had to say about his afternoon:
What would you say if you could have some "one to one" tuition from someone at the top of their game? For example, football coaching from David Beckham, driving instruction from Lewis Hamilton or acting tips from Daniel Day Lewis. Chances are you'd jump at the chance. So, when I saw an invitation from KT on her fb page to "win" an afternoon of her time..and all I had to do was send off my name to "go in the hat", I didn't hesitate. I couldn't believe my luck when two Durham PS members e-mailed me to tell me that KT had posted a video on her page of husband Steve pulling MY name out of the hat! After an exchange of emails, the afternoon was arranged for Saturday 16th March so.....yesterday I found myself sitting in front of KT's computer, staring nervously at a filmstrip of my images I'd sent her that we were going to work on.
We started off the session with a brief chat about the computer hardware needed to power serious PS work and then moved onto graphics tablets...a necessity for a lot of detailed PS work as they give a higher degree of control and flexibility than can be achieved with a mouse. KT then took me through her workflow and how she uses Lightroom 4 and CS6. I have LR4 but rarely use it, but after seeing how she uses it, I'm now convinced I need to change! Check out her LR tutorial below if you need any help. During this session KT took me through some of the techniques she uses to create her stunning composites and I was privileged to get a look "under the bonnet" as she showed me all the various masks and layers (and all the other magic) that make up her "Vampiress" image. Wow!
After taking me through these techniques, it was time to swap seats and for me to have a go on one of my own images. I must admit, I was a bit nervous but KT was very patient and was more than willing to go over things again (and again!) to make sure I understood. And after a few goes, I did get it! A lady taken at the Goth Festival in Whitby was soon standing by a sea shore..and looked all the better for it! After more brews we moved onto some repair techniques and KT showed me how to use "Content Aware Scaling" instead of the "Clone Tool" to remove clutter from one of my images. I'd have never have thought of that!
The 4 hours we had together absolutely whizzed over. I came away with a lot of extra knowledge that I can practice at home which I can use on my own images. For her part, KT was brilliant, giving up an afternoon and sharing her knowledge and experience with me. If she offers up another afternoon, take my advice and make sure you get your name in the hat. Highly recommended.
Neil Maughan
ARPS AFIAP DPAGB